Welcome to Sprite Fighters, the hex based, tactical board game you never knew you needed, until right now! 
Failed video game characters have been gathered from across the digital cosmos. These heroes have each been given the same choice: immediate deletion, or to become pit gladiators and fight in the arenas for the entertainment of the most feared entity in all of video game history…chickens! 
In Sprite Fighters, you will take control of one or more of these doomed sprites and lead them to victory, either in teams or in the pixilated maelstrom of free for all combat! 
Sprite Fighters is for 2 to 8 players ages 14 and up. 
Playtime: 40-90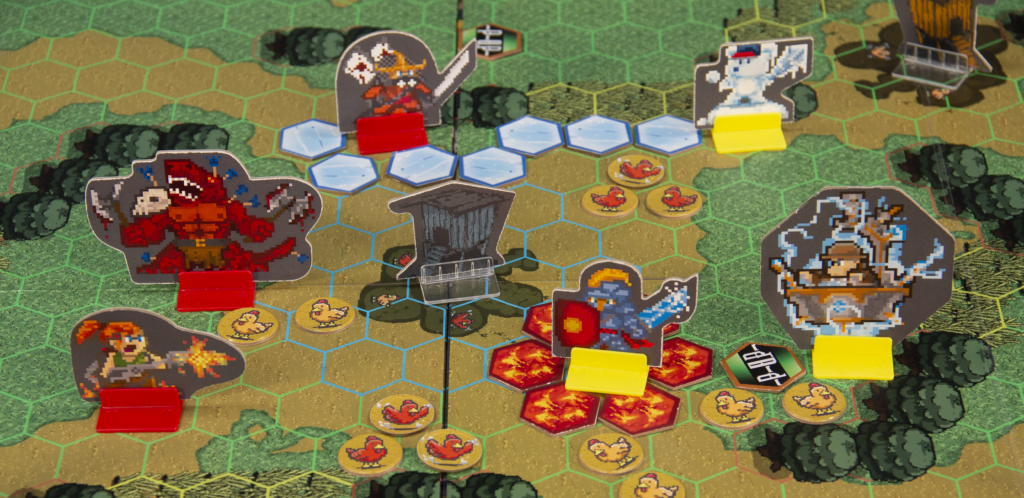 Battles can take place on 2 maps:
The Arena: 2-6 players
The Forest: 4-8 players


The game has 2 Phases in each round.
The Action Phase: Where players follow the initiative track to take turns moving and using abilities to earn Eggspierence and score points.
The Maintenance Phase: Where players will cooldown their abilities, spend their eggsperience upgrade their fighter and cleanup special effects.
The ultimate goal in Sprite Fighters is to be on the team that scores the most points in the scenario. 
Sprite Fighters Comes With
– 2 Folding map Boards – 1 score board
– 8 Character Playmats 
– 8 fighter standees 
-8 Ability playmats
– 8 Head cards -2 Chicken cards
– 45 Power Up Cards
– 21 Yellow Chicken Tokens
– 21 Red Chicken Tokens
– 32 Status Effect Tokens
-70 upgrade tokens
– 6 Power Up Hexes
– 6 Score Znoe Hexes
– 21 Character Specific Hexes
– 50 Red Tracking Cubes
– 50 Yellow Tracking Cubes
– 4 Yellow Character Stands
– 4 Red Character Stands
– 5 Clear Stands
– 5 Chicken Coops
– 8 Score Tracker Tokens -1 Initiative tracker
– 1 Rulebook
387 Pieces